Foreigners do not need to verify.
If you are a foreigner, you do not need to verify to see the adult posts. Click [설정] > [계정]. Please activate [외국인의 성인물 열람] and click [변경 내용 저장]. If one enables function, he or she is 18 years of age or older, eligible to read adult content, and is responsible of all related laws. However, even if this function is enabled, some of the posts that are off limits to foreigner cannot be read.
But if you see the pop-up below, You have already been recognized as a Korean. Even if you live abroad, you can be recognized as a Korean in the following cases:
Your device's OS/browser setting is in Korean.
You use email services for Korean users such as Naver or Daum.
Your IP address information shows that where you are located is Korea.
You have been recognized as a Korean by another account.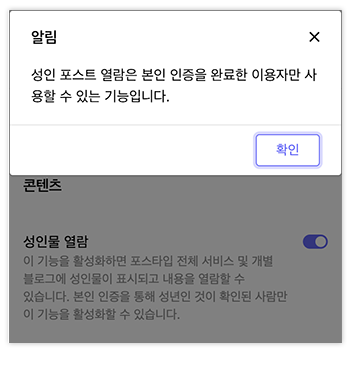 If you are recognized as a Korean, you can verify using your passport
If your passport verify that you are an adult (over 18 years old), you can access the adult posts. Only one account per person can be verified using a passport. Verification is valid for one year from the date of confirmation. Your verification will be automatically disabled when you connect in Korea.
If you have not confirmed your email, first complete your email confirmation. Click [설정] > [계정] > [이메일 인증]. Confirm your email address or enter correct one, click [인증 메일 보내기]. Soon, you'll get mail from POSTYPE. Click the link in the middle to activate your account fully.
And click [본인 인증하기] > [신분증 인증(해외 이용자 전용)]. This link is only accessible from abroad. Fill out all information correctly on the form and upload a copy of passport. Verification takes about two to three business days. An email will be sent to your account's email address when verification is approved or rejected. To protect your personal information, the submitted information is deleted immediately.
Your verification may be rejected in the following cases: 
All personal information except for the photo, surname, given name, nationality, sex, date of birth, date of expiry of passport is not redacted.
The information entered does not exactly match what is written on your passport.(especially nationality and name including space or hyphen)


KOREA, KOREAN, SOUTH KOREA (X) → REPUBLIC OF KOREA (O)

USA, UNITED STATES (X) → UNITED STATES OF AMERICA (O)

TAIWAN (X) → REPUBLIC OF CHINA (O)

CHINA (X) → CHINESE (O)

SINGAPORE (X) → SINGAPORE CITIZEN (O)

THAILAND (X) → THAI (O)

VIET NAM (X) → VIETNAMESE (O)

SPAIN (X) → ESPANOLA (O)

CANADA (X) → CANADIAN (O)

RUSSIA (X) → RUSSIAN FEDERATION (O)

FRANCE 

(X) →

FRANCAISE

(O)

PORTUGAL (X) → PORTUGUESA (O)

Attaching other ID cards, such as driver's license and student ID, not passport.
All four corners of the passport are not visible.
Unable to see the information accurately because of blurred or reflection of light.
The passport has been compromised or has expired.
The Passport seems to have been forged or stolen. 
Redaction Example